1 Compartment Cage-16x24
Cage sets down into 16x24 pan. Fully Assembled.
$51.00

1 Compartment Cage #1compt-1624x13
16" x 24" x 13"h
16" x 24" x 2.5" plastic pan
1in x 2in lid, 1in x 1in sides
1/2in x 1in floor, floor recessed 2"
shipping weight 46 lb. oversize
oversize shipping actual weight 15 lb

Small Wabbitat 25x19 MW00470black
Now comes with 2 corner urine guards
Slider Pan with Recessed Floor
Don't be fooled by the lower price on Hoppity cages,
they do not come with the recessed floor.

$74.99 SALE price $46.00



*NEW* MIDWEST Homes for Pets
Wabbitat Model 151 Black
Measures 25" x 19" x 20"
Sets Up Complete in Seconds -
No Tools or Connecting Pieces Required
Unique Design Provides Versatile Top and Front Door Access
Secure Slide-Latch Allows for One-Handed Door Operation
Easy to Slide-Out and Clean Front Access Durable Plastic Pan
1/2" / 1.27cm Grid Mesh Floor Supports,
Hygienically Protects Rabbits Hocks
Black Electro-Coat Finish Provides Long Lasting Protection
Playpen play pen
Exercise Pen
Prevue Exercise PlayPen
#048081400944 pr40094
8- White panels are 18" wide and 29" High
For Rabbits, Ferrets, Dogs, Ducks, Turtles & more.
shipping weight 29 lbs.
Marshall Pen Cover will fit the Prevue Exercise Pen
reg $79.99 SALE price $46.00
Prevue Exercise Pen
Slightly different than picture
Now has 2 bars that go through the middle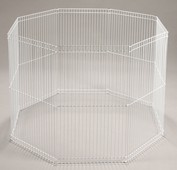 Prevue Hendryx Small Animal Playpen is made for rabbits and other small animals. The playpen was made specifically so rabbits can't climb up and out. This indoor/outdoor playpen provides a safe and contained area for your pet to play and exercise. Connect additional playpens for increased play area. Offers easy assembly - no tools required. Easy to set up - Easy to fold & store. Midwest Exercise Pen Midwest Playpen Marshall Playpen Marshall Exercise pen
Exercise Pen Cover
fits Prevue Exercise Pen above
#766501002614 mr00261
$40.00 SALE price $30.00



Marshall Exercise Pen Cover or Mat
Fits Prevue or Marshall Exercise Pen above.
Marshall's Play Pen Floor Mat is ideal for use with Play Pens inside or outside the home. Use inside underneath the Play Pen to protect carpeting from digging and accidents. Outside, it's great as a cover to protect pets from direct sunlight and birds of prey. Velcro straps attach it directly to the Play Pen for added security.
shipping weight 5 lbs.
Cage with Slider Pan
Wabbitat


Large Wabbitat 37x19 MW00471
This item will be drop shipped from the distributor,
please allow additional time for shipping and delivery.
$100.00 SALE price $75.00
Wabbitat MIDWEST Homes for Pets
Model 157 Measures 37" x 19" x 20"

• Sets Up Complete in Seconds
- No Tools or Connecting Pieces Required!
• 2 Doors - Front and Top Door Access
• Unique Slide-Latch Allows for One-Handed Operation
• Durable, Slide-Out ABS Plastic Pan
• 1/2" Grid Mesh Floor Supports & Protects
• Bright Zinc Plated with Acri-Lock™ Acrylic Coating
6 Wabbitat Urine Guards 4/18in, 2/24in
$18.00
6 Metal Urine Guards for
Wabbitat MIDWEST Homes for Pets Model 157
six 4 inch by 18 inch
These urine guards have holes drilled along the top edge. Just attach with twist ties or wire.
purchase individually below

Small Wabbitat 25x19 MW00470black
Now comes with 2 corner urine guards
Slider Pan with Recessed Floor
Don't be fooled by the lower price on Hoppity cages,
they do not come with the recessed floor.

$74.99 SALE price $46.00



*NEW* MIDWEST Homes for Pets
Wabbitat Model 151 Black
Measures 25" x 19" x 20"
Sets Up Complete in Seconds -
No Tools or Connecting Pieces Required
Unique Design Provides Versatile Top and Front Door Access
Secure Slide-Latch Allows for One-Handed Door Operation
Easy to Slide-Out and Clean Front Access Durable Plastic Pan
1/2" / 1.27cm Grid Mesh Floor Supports,
Hygienically Protects Rabbits Hocks
Black Electro-Coat Finish Provides Long Lasting Protection

4 Wabbitat Urine Guards 2/18in, 2/24in
$12.00


4 Metal Urine Guards for
Wabbitat MIDWEST Homes for Pets Model 151
two 4 inch by 18 inch - two 4 inch by 24 inch
These urine guards have holes drilled along the top edge. Just attach with twist ties or wire.
purchase individually below


Tshirts & Posters from affiliate